My son received a Thomas & Friends calendar from his Mom-Mom one year and he LOVED it! Even when the year had come and gone, he couldn't bear to part with it because of all of the pictures. So, I decided to make a wall decoration out of it for our loft (which is also his playroom). I ripped out nine of his favorite "months" from the calendar, trimmed them to be square-shaped, and then taped them in a nice pattern on the wall. So that the tape wouldn't be obvious, I did tape rolls behind each corner.
The calendar went from this.....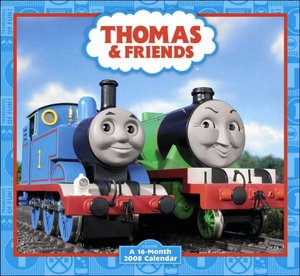 To this.....
If you want to make it look more finished, you could go to the craft store and buy those paper borders that teachers use in their classrooms.
Either way, it was quick and easy, and my son loves it. It should be simple to remove one day (fingers are crossed), and I was able to recycle the rest of the calendar.